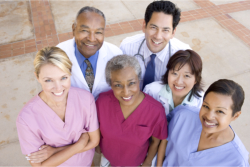 Star Home Health is a premier, licensed home health care agency conveniently situated in Highland, Indiana. Whether you need reliable care after a hospital discharge, medical intervention while recovering from a surgery or assistance while living with a chronic illness, our agency has a wide range of services that will surely cater to your needs.
Star Home Health is dedicated to providing quality and compassionate care to individuals in need of home health care. Our goal is to restore patient's highest level of functioning in a familiar place, their own home and in the society. As a trusted home health care provider, we truly appreciate your desire to receive quality care in the best place where you always preferred to be. Unlike staying in a hospital setting, home health care has been proven effective in delivering quicker recovery where your loved ones are always within your easy reach and in a safe and secure environment.
Our Staff
As an industry-standard compliant, Star Home Health takes pride in supporting your needs at home with the help of our team of diverse, competent and highly-skilled health care professionals. To guarantee the provision of quality care in each client we serve, our staff have passed our strict pre-employment process that includes criminal background check, licensed verification, personal background check, medical examination and reference check. On top of that, each staff at our company is required to attend a series of trainings and seminars to successfully carry out their duties.
Star Home Health has the following health care professionals:
Registered Nurses
Physical Therapists
Occupational Therapists
Speech Language Pathologists
Home Health Aides
Medical Social Workers
Non-Discriminatory Policy
Star Home Health is an equal-opportunity employer and health care provider. We do not discriminate anyone on the basis of their race, gender, color, language, religion, status, employment and health condition. As long as you require health care services at your home, expect that we will promptly reach out to you.
Please give us a call today at 219-922-7800 or send us a message online to know more information about us.