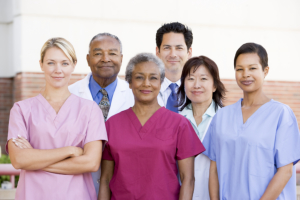 It is our goal to serve you at home that is why we always make sure to give you confidence and peace of mind as you entrust your needs to us. Star Home Health deploys the best and most qualified health care staff who will be your source of quality health care, comfort and assistance at your own home. We carefully selected our staff and require them to undergo a strict pre-employment process to guarantee your satisfaction and protection.
Staff at Star Home Health are all dedicated to your overall welfare. Whether you need assistance with your daily living activities or if your health requires medical intervention from a health care professional, our company is fully equipped to provide you with all your needs. Rest assured that as you receive our services, our staff will be treating you like our own family and will work hard to provide you with excellent care you deserve.
Our staff is composed of:
Registered Nurses
Physical Therapists
Occupational Therapists
Speech Language Pathologists
Home Health Aides
Medical Social Workers
Our staff are friendly and approachable. If you want to meet one of our staff today, please call us at 219-922-7800.